: CELEBRITY FILE :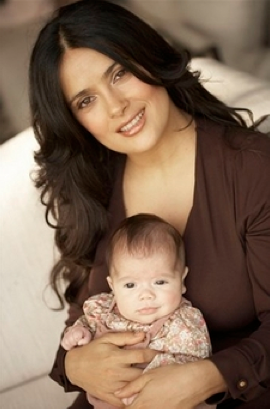 YEP! Celebrities Breastfeed Too! In fact, some of them on the list might just surprise you! If you know of a celebrity mom who breastfed that is not on my list, please email it to me!
Mary, Mother of Jesus
Princess Grace of Monaco
Princess Caroline of Monaco, oldest child of Princess Grace
Diana, Princess of Wales
Queen Elizabeth II of England breastfed Prince Charles. (The book, "The Royals," spends about two paragraphs telling about the Queen breastfeeding the infant prince. It goes on to say that this fact couldn't be publicized at the time because it would be considered bad manners to discuss the "royal breasts.")
Queen Sirikit, of Thailand
Kelly Ripa, actress and talk show host
Jada Pinkett Smith, actress, and wife of Will Smith (EXTENDED NURSER!)
Andie McDowell, model, actress
Holly Robinson, actress (TWINS!)
Keely Shaye-Smith, companion of Pierce Brosnan
Anita Baker, singer
Connie Selleca, actress. Her husband John Tesh, talked proudly on TV about EXTENDED BREASTFEEDING
Mia Farrow, actress
Katherine Ross, actress
Jayne Kennedy, actress
Susan St. James, actress
Linda Kelsey, actress
Mariette Hartley, actress
Demi Moore, actress
Adrianne Barbeaux, actress, over 50 and nursing TWINS!
Melissa Gilbert, actress
Cybil Shepard, actress (TWINS!)
Rita Wilson, actress wife of Tom Hanks
(she commented at some award show, perhaps the Oscars,
that they couldn't stay out late and her dress *fit* so well because she was breastfeeding!)
Madonna, singer and actress
(who can forget her singing on the Rosie Show that "the milk truck" is the only role I play!)
Jane Seymour, actress (TWINS!)
Julia Roberts (TWINS plus one!)
Lindsay Wagner, actress (The Bionic Woman),
and a strong supporter of breastfeeding, nursed her children for an extended period of time
Cathy Rigby, gymnast, olympic gold medalist
Mary Lou Retton, gymnast, olympic gold medalist
Mrs. Jordan, Michael Jordan's mom breastfed him for 3 YEARS
and said "I feel that is why he is the athlete he is."
Cheryl Swopes, BB player
Joan Rivers, talk show host and comedienne
Tracy Pollan, actress, wife of Michael J. Fox
Christie Brinkley, model
Nicole Simpson
Eleanor Roosevelt
Marilu Henner, actress
Julianne Moore, actress
Patricia Richardson, actress (TWINS!)
Carly Simon, singer (ex-wife of James Taylor), breastfed her children long term
Valerie Bertinelli, actress
Katie Couric, host, Today Show
Pamela Anderson Lee (WITH IMPLANTS!)
Ruth Pointer, singer (TWINS!)
Miss Lillian breastfed, Jimmy Carter, but bottlefed Billy (not confirmed)
Soccer Mega Star Pele's mom breastfed him for 5 YEARS!
Laurie Metcalf, actress
Ursula Andress, actress
Sophia Lauren, actress
Meryl Streep, actress
Jacqueline Smith, actress
Kathie Lee Gifford, talk show host and singer
Carrie-Anne Moss from the Matrix movies (OVER 1 YEAR)
Catherine Bell, actress
Gwyneth Paltrow, actress
Debra Messing, actress
Cindy Crawford, model
Jane Kaczmarek, actress
Celine Dion, singer
Sarah MacLachlan, singer
Victoria Beckham aka Posh Spice from the Spice Girls (WITH IMPLANTS!)
Angie Harmon, actress
Gwen Stefani (OVER ONE YEAR)
Courtney Cox-Arquette (OVER ONE YEAR)
Will Ferrell's lovely wife
Tammy Lynn Michaels, Wife of Rocker Melissa Ethridge (TWINS!)
Kelli Carpenter, Rosie O'Donnel's Wife (Rosie admits to forcing her to stop at 6 weeks due to jealousy issues)
Katie Holmes breastfed baby Suri, her child with husband Tom Cruise
Angelia Jolie breastfed baby Shilo, her child with Brad Pitt
Nicole Richie is currently breastfeeding and/or pumping for baby Harlow, her child with Joel Madden
It is known thet Brittney Spears breastfed for a short time with each of her children.
Gabrielle Reece, superstar volleyball player, breastfed both of her children.
Elisabeth Hasselbeck, Co-Host of The View, breastfed all her children for a time. It should be known she also does ads for a cormula company, which is unfortunate.
Access Hollywood host Nancy O'Dell, aged 41
Actress Helena Bonham Carter, 41 breastfed both of her children
Leighanne Littrell, wife of Backstreet Boy Brian Littrell
Barrett McIntyre, wife of NKOTB star Joey McIntyre breastfeeds their son, Griffin Thomas
Courtney Thorne-Smith, 40
Jenna Elfman
Reality star Trista Sutter
Christina Aguilera, has stated recently that her plan is to nurse at least 2 years!
Angelie Jolie, has been very public with her plan to breastfeed her upcoming twins!
Salma Hayak
Jamie Lynn Spears. Teen mom, had her baby at just 16 years of age.
Beyonce
Mayim Bialik
...................and many more mothers that I have missed!!!
Celebrity Moms Talk About Breastfeeding
Tori Amos
Singer-songwriter Tori Amos shocked her fans this fall when she announced the birth of her baby girl. Word of her pregnancy was kept hush-hush, while Amos was quick to remark on the first time she nursed her daughter. "An ounce of breastmilk is even more potent than the finest tequila."
Erykah Badu
Singer and actress Erykah Badu, who is getting ready to release her latest album since her critically acclaimed 1997 debut Baduizm, recently talked to Launch.com reporter Lucy Tauss about becoming a mother in the last few years.
"When I first had the baby, I was breastfeeding for two years straight, so we were together for two years of his life - every day, all hours of the day. So I was two people, and I eventually morphed back into one. Now he's part of me. He's very independent as a result of it. I thought it was going to be the opposite," she added. "I was very worried that he was going to be attached since we were together every day, but I guess it made him feel comfortable: 'I know she's around. She'll be there.' It made me feel like a very responsible person and tidy, and my health was better because I'm now responsible for someone's whole reason for being."
Cindy Crawford
As of December 1999, Cindy was nursing her five-month-old baby. Earlier that month, the supermodel mom filled in for Kathy Lee Gifford on Regis and Kathy Lee.
"I think she's such a great advocate for breastfeeding as she makes it seem such a natural part of parenting and life. Regis was holding up pictures of her son and she said, "I'm nursing him, so you'd better put those away or there'll be a problem here." Then she said, "All you women, you understand."
Jodie Foster
You saw the Jodie Foster film "Anna and the King" and you thought Jodie has dieted her way down to pre-pregnancy weight? Well, according to an article in the New York Daily News, Jodie has slimmed down after the birth of her son in September 1998 by breastfeeding.
"I just couldn't stop losing weight with the breastfeeding," Jodie said in the Daily News article. "I ate as much as I possibly could, but I kept losing. You'll see why when you meet Charlie. He's a stocky guy, and he likes to eat and eat more. You cook it, he'll eat it." . . . .
Arcelia Garcia
OK, so she's not a supermodel or a Hollywood actress, but Arcelia Garcia made headlines when the grandmother of 13 gave birth to healthy triplet girls on Jan. 8. At 54, Garcia is three years older than the average age of menopause. For that reason, some doctors feared the babies would be born with chromosomal problems, but the babies and mom were doing fine just days after the birth.
The Jan. 24 issue of People magazine reported that Garcia planned on breastfeeding all three babies. "They're healthier that way," she told People magazine.
Jerry Hall
The October issue of Vanity Fair featured a picture of model and actress Jerry Hall breastfeeding her and Mick Jagger's son, Gabriel. The picture was taken by celebrity photographer Annie Leibovitz and is featured in Leibovitz's latest book entitled "Women."
In the photo, Jerry is elegantly dressed (heels and everything) sitting in a chair, breastfeeding her son.
"It's like she is saying, look at me breastfeeding and how glamorous it can be too, and she's not too worried about an "accident" on her designer outfit!,"
Faith Hill
Country Music Network recently aired a biography of singer Faith Hill (who is married to country star Tim McGraw). One of our members reports that in the program, Faith talked about how she would take breaks from shooting her latest music video to breastfeed her daughter.
"I think that's wonderful, and I'm glad to hear that she said that, so that some of her fans might be encouraged to do the same,"
Elle McPherson
People magazine from the week of November 25 featured an article on supermodel Elle McPherson. In the article, Elle is identified as a nursing mom. She breastfeeds her son, Flynn.
"This is really great PR for breastfeeding, as several formula-feeding moms that I have talked to didn't want to breastfeed because it would "wreck my boobs". That reason really looks silly given that a gorgeous supermodel who makes her living off of her looks and figure breastfeeds!"
Karenna Gore Schiff
Vice President Al Gore's oldest daughter Karenna is a breastfeeding mom to six-month-old son Wyatt Gore Schiff. The New York Observer published an article about Karenna earlier in 1999. The article said,
"...Ms. Schiff's life has been one long scheduling crisis, between classes as a third-year Columbia law student, breastfeeding little Wyatt and getting on the horn with Gore campaign consultant Bob Squier.

Karenna has been helping out with her father's 2000 presidential campaign. The New York Observer article also mentioned how in the early 1980's, Al Gore attacked Nestle for marketing its infant formula to Third World countries. At the same time, Tipper Gore banned all Nestle products from the Gore household.
Karenna recently told ThatGlow.com her thoughts on breastfeeding.
"I am totally supportive of nursing in public. I feel like if your baby is hungry and screaming, you gotta do what you gotta do. I can remember one time I was nursing in Central Park and I was fantasizing that I would get arrested and be thrown in jail for nursing. I imagined that I would then lead a massive picket line of nursing mothers. I get that from my Mom - she nursed us and is very certain and strong about doing things in a natural way.

I think that we have to do a lot more as a society to accommodate working mothers. Breast feeding in itself is a real challenge. I had this vision of breast feeding lounges or something. I've found that since I've had my baby I find that other mothers are the most helpful."
Will Ferrell with his wife and breast pump in tow!